Despite the limitations that the Covid-19 outbreak  caused all around the world and the resulting necessities of business, travel, and school restrictions, face masks, and social distancing, we decided that going on a camping trip in the great outdoors would be a good way to isolate in a new environment. As we are totally self-contained in our living quarters horse trailer, we were able to book last-minute reservations from September 25 through October 1, 2020, at the Broken Arrow Horse Camp in Custer, South Dakota. According to Google Maps, the trip would be a manageable eight hours, much of it on I-25, although it did take us through the heart of Denver. However, ten hours later, with only a couple of short stops, we pulled into the campground and were able to tuck the horses into their stalls and set up the trailer before dark. Because this would be the last week of their season, only about a half dozen other horse campers were scattered throughout the campground although the RV section was full of campers who  had spent most of the summer there. The management helped us download the trails on our GPS, so we were ready to ride.
As it was somewhat chilly, our start was slow, but the horses were not. Both of them were unusually spooky, and my normally placid gelding would not settle down, especially when other riders passed nearby. I decided to dismount and lunge him a little until he relaxed, but he began bucking and rearing like I had never seen him do before. Suddenly, the saddle went flying off of him, and I discovered that the leather billet strap on my new saddle had torn. When we pack for a camping trip, we always bring spare bridles, reins, halters, lead ropes, and blankets–but not billet straps! I put the saddle back on in a looser hole, and led him carefully back to the stall. Fortunately, a feed store in Custer sold tack, and they happened to have one billet strap left. Later that afternoon, we rode out again, both horses now calm and relaxed, but we had forgotten our GPS, so we were not very adventurous.
Sunday morning, thanks to Facebook Live and good internet service at Broken Arrow, we were able to watch on my computer our grandson's confirmation service in Nebraska, which had been restricted to immediate family only. That afternoon, we enjoyed a stress-free, four-and-one-half-hour ride on two calm horses with a GPS that tracked our route as well as showed the various trails. Although the scenery was beautiful, rolling hills with rock outcroppings and the beginning of fall foliage, we noticed that  a lot of dead trees dotted the hillsides, with huge piles of dead timber scattered throughout the area. The camp manager told us later that all of these trees had been killed by beetles. We have the same problem in Colorado, but not to this extent in our area.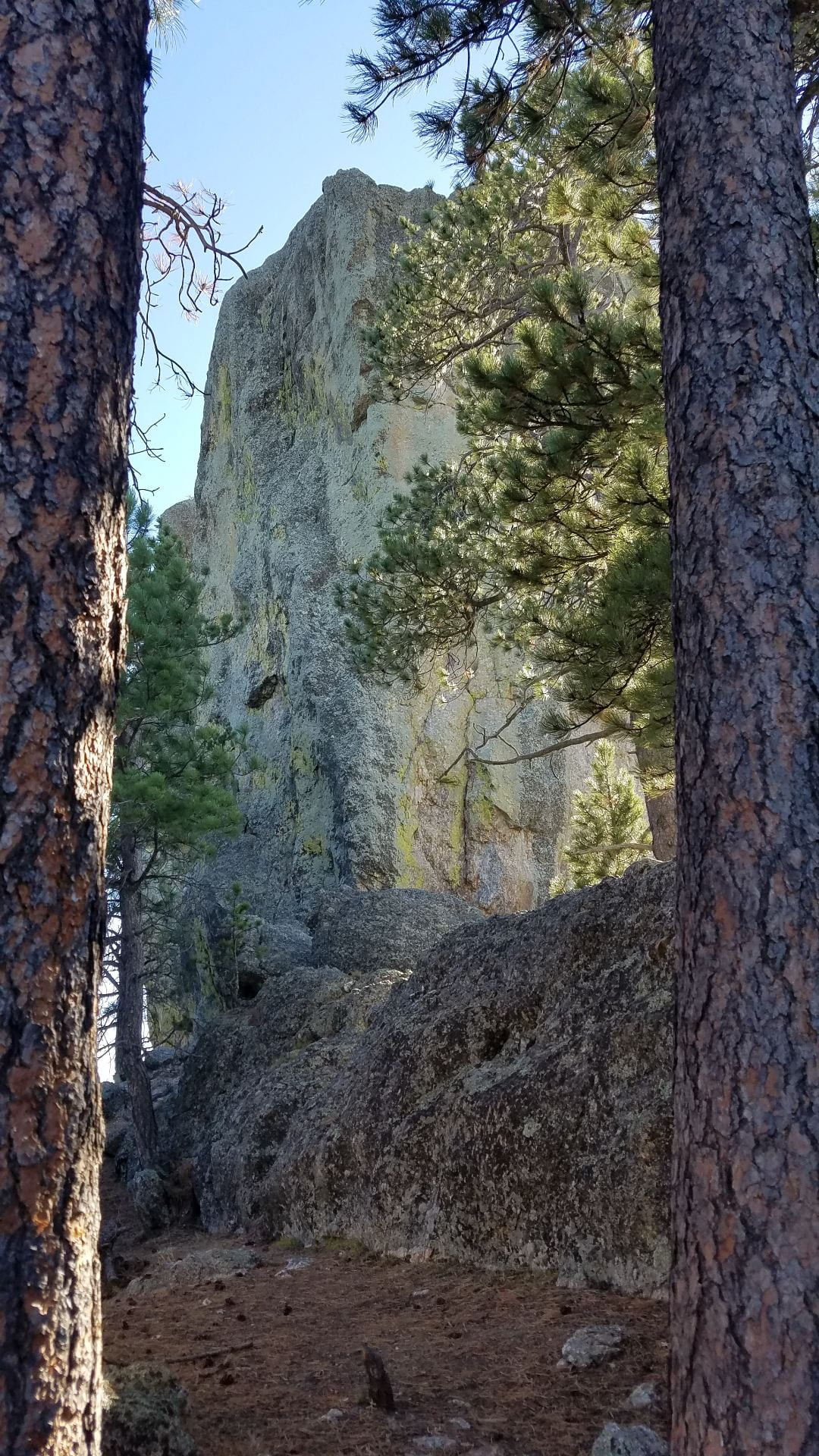 On Monday, we decided to venture to Beecher Rock, named after Henry Ward Beecher, a famous New England minister and abolitionist, who also supported the Union in the Civil War, women's suffrage, and temperance. He was the brother of Harriet Beecher Stowe, the author of Uncle Tom's Cabin. In 1875 he was put on trial for adultery in one of the most widely reported trials of the century. It was rumored that every Sunday, he preached to seven or eight of his mistresses. Ironically, although Beecher never traveled to South Dakota, twin pinnacles bear his name and proclaim his reputation, attesting to the sense of humor of South Dakota pioneers. The trail offered different types of terrain, some hilly with trees and some meadows,but near then end of the journey, it became steep and narrow with lots of big rocks and deadfall that made it difficult for the horses to maintain good footing. At the summit, I was able to hike up closer to the rock, but my husband decided to stand watch with the horses. We could have continued on to "Susie's Mine," but as the trail promised more big rock and deadfall, we decided to turn back. I thought it was a great ride, but my husband was not as enthusiastic because of the final ascent and, worse, the slippery descent.
That afternoon we explored some public campgrounds for horses as well as a another private horse camp. The state campground was beautiful, but totally primitive with only a few corral sites. Although the  private horse camp offered access to some good trails as well as one to Mount Rushmore, campsite was bare and crowded, and the horses were confined to 10′ x 10′ portable panels. In some cases, two horses shared that small space. We decided that we had made the right decision in choosing Broken Arrow.
We were more ambitious on Tuesday and rode for ten miles through golden aspens and rolling hills and trees. Compared to some of the mountainous terrain that we are used to, these trails were of moderate difficulty. However, although all of them had names, not all were well-marked. Without a GPS, it would have been confusing which fork in the road to take. We also had to navigate several shallow, narrow water crossings. My gelding, new to trail riding, had to be persuaded to walk through them, but after a while, took them in stride. These easy crossings were perfect training obstacles. The sun was shining, the air crisp, and the ride wonderful.
For Wednesday, our last day of riding, we chose a trail called "Heaven" because it offered a panoramic view of the Black Hills and even the town of Custer. Although we had to ride beside a gravel road for several miles, there was no traffic and the riding level. We entered a meadow and began the ascent to the lookout, but it was not steep because the trail meandered back and forth instead of straight up. When we reached the top, the view was remarkable and lived up to its name. We rested the horses, ate a snack, and marveled at how far we could see. It was truly breathtaking. The only downside was the the weather was cold, but we had dressed appropriately.
That afternoon, we broke camp and readied for our departure early the next day. We would highly recommend Broken Arrow and it trails as long as you have GPS tracking capabilities. The campground was clean, the covered stalls roomy, and the hosts friendly and accommodating. The camp also offers small trailers to rent to haul your horses to other trailheads, something we would definitely do in the future. Because it was the last of the season and our short trip was planned spur-of-the-moment, we were lucky to have been able to make reservations. If you are planning the ride during the peak of the season, you should make reservations there early.