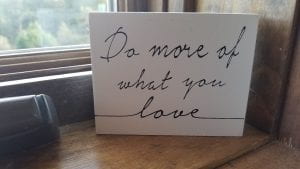 Life takes unexpected turns for all of us, sometimes even a few too many. My husband's health issues continued throughout 2017, and then on a sunny spring afternoon in 2018, my gelding shied and began bucking, throwing me onto a rocky road where I suffered a concussion and multiple broken bones. Although I climbed back into the saddle that summer (but wisely on a different horse), any camping trips were out of the question for another year! However, we were not to be deterred, reminded daily by the aphorism on the small wooden sign I placed strategically on the kitchen window sill: "Do more of what you love." What we wanted to do more of was camp with our horses!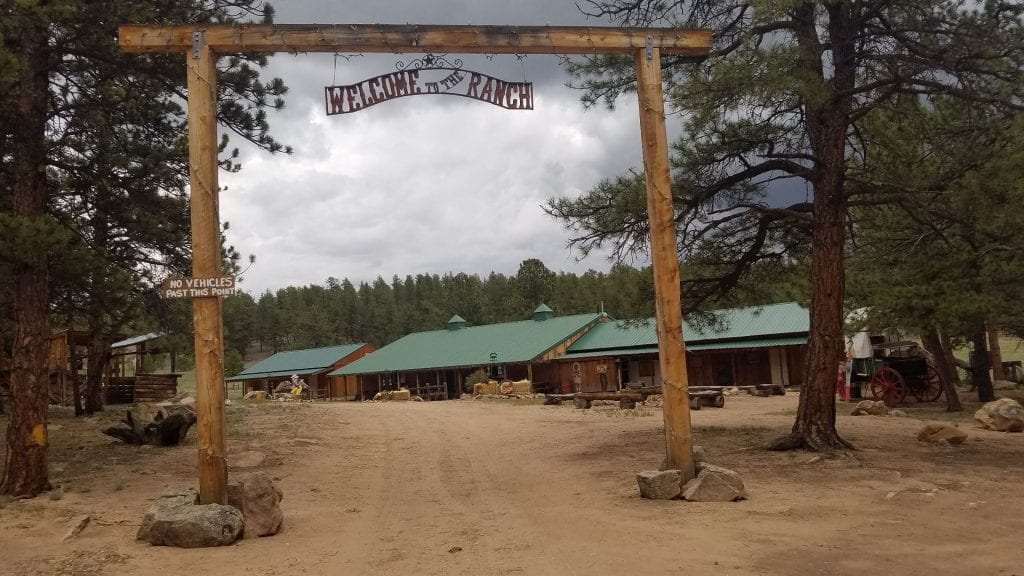 Finally,this spring, 2019, we traded our pickup camper and bumper pull trailer for a more user-friendly horse trailer with living quarters, and by the first week of June, we were on the road, beginning to do again what my husband and I both love, exploring nature by horseback. We decided to rule out primitive camping in a solitary spot this first time, call it gun-shy if you will, and instead opted for "glamping" at the M Lazy C Guest Ranch. I follow a couple of Equestrian sites on Facebook, and since several people had recommended it highly, and since it was only a few hours from our home, we decided to check it out and called in our reservations.
The M Lazy C Ranch in Lake George, Colorado, west of Colorado Springs, offers multiple options. Although they are a full-service Dude Ranch with rustic cabins and many choices of wrangler-led trail rides, they also have camping sites for horse trailers. Campers can even sign up to eat meals in the ranch dining hall, and they offer a hot tub for sore muscles after a long ride. Each site has two 12′ X 12′ corral panels, but we noticed that others had added corrals for the number of horses necessary. Two of the sites had covered corrals, but I guess they are usually booked far in advance. The back-in sites are all fairly level, and one of the camp hosts escorts you to your reserved site,  helps you back in, and explains all of the hookups. They are many choices of sites from primitive to full hookups as well as a dump station on the ranch in case you opt for no sewer hookup.
After we set up camp, we decided to acclimate the horses to their new environment, so we spent the late morning exploring the campground, for there is  a large grassy area, maybe 20 acres, between the horse rental stables and office, the dining area, the shooting range, and the horse sites. That afternoon we headed out north to the Pike and San Isabel National Forests, which border the ranch on two sides. Unfortunately, the hosts offer no maps of the area, but we found many trails to follow. The downside was that we had no idea where they went or how long they were as we had forgotten to bring fresh batteries for our GPS. My husband, who has excellent directional skills, was unfazed, but I was a nervous wreck, fearing we would be lost forever. I wanted to know where we were going and how to get back. Trusting him, I decided to focus instead on enjoying the scenery.
The first mile or so wandered through a newly-mitigated forest area where the trees had been thinned to prevent forest fires and to promote forest health. A lot of smaller branches and debris remained to be cleared away as well as some harvested logs that still had to be removed, but since we are no strangers to the threat of forest fires, we thought it looked great.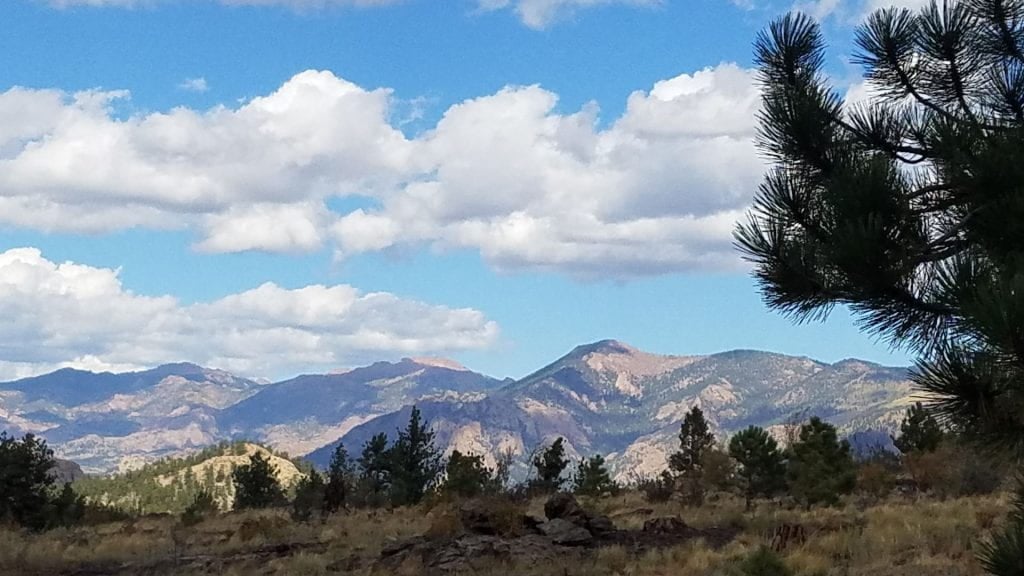 As we continued, we chanced upon some huge rocks and clusters of aspens and continued on into a more thickly forested area. As the clouds were moving in, we decided to retrace our steps back to camp, not knowing where this trail led. We made it back and put the rain blankets on our horses just in time. Then we headed into the village of Florissant, for I had convinced my husband that we needed batteries. While there, we stopped by the Thunderbird Bar for hamburgers. Although a typical small town bar, it was quirky, and the burgers very good. However, the tater tots that the waitress highly recommended were, simply, just tater tots. They must have had an over-supply that they needed to get rid of.
The next day we packed our slickers since rain was predicted, brought along some water, trail mix, and the GPS with new batteries, and headed to the national forest west of camp. This area is more level with open areas as well as primitive national park campsites, and again offered lots of trails and even dirt roads. However, with our trusty GPS, we could choose where we wanted to go and how we wanted to return. The scenery was gorgeous, and the horses appreciated the gentler terrain. We had ventured quite far from the camp when a mountain shower approached, so we donned our slickers. It passed quickly, and we found a nice meadow to rest, snack, and let the horses graze. That evening back at camp, we used the gas barbecue in the community shelter to grill steaks. Since we had only booked two nights as a trial run, we packed up the next day to head home. Checkout time is not until 11:00, so we did not have to rush and could even have gone on a short morning ride.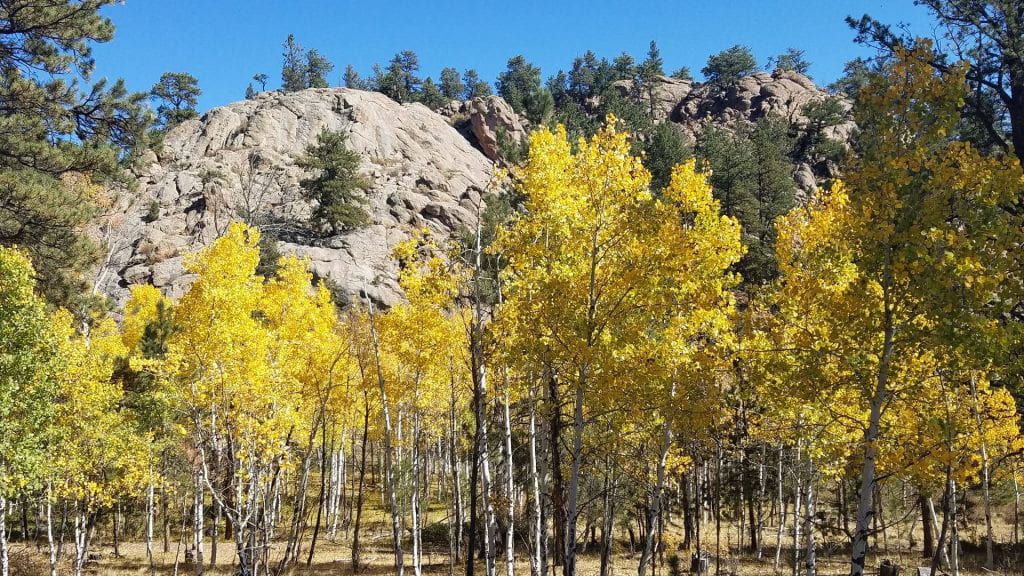 Because our stay at the M Lazy C had been so enjoyable, we decided to return again in October to view the fall colors on horseback instead of through a car window. This time we booked four nights and explored new areas in the national forest every day.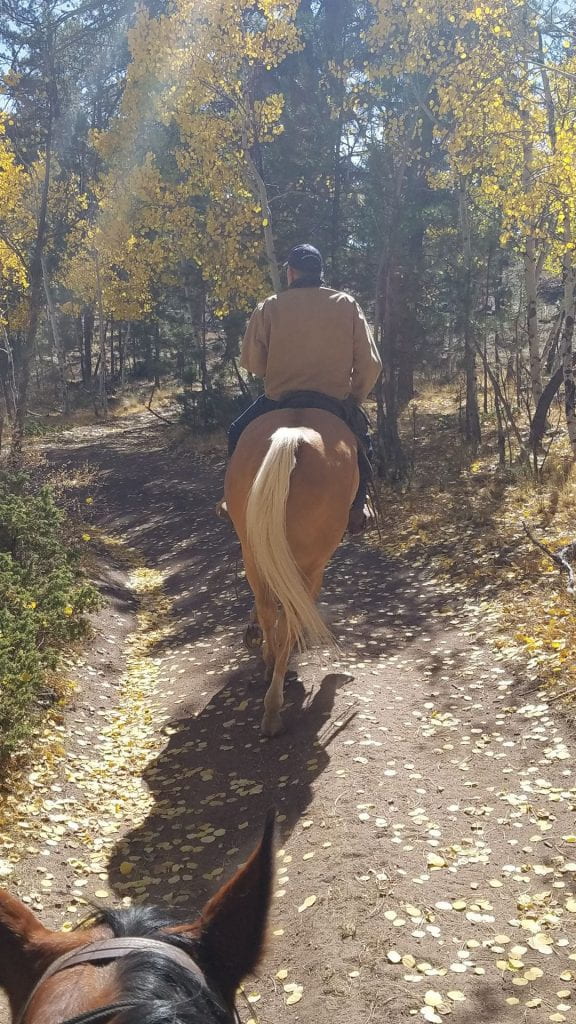 The weather was perfect, the sun warm, the aspens golden, and the breeze cool with no thunderclouds on the horizon. More of the campsites were full this time, probably because of the popular autumn foliage so vivid in the Rocky Mountains, and we enjoyed meeting people from various regions of the United States as well as some fellow Coloradans. We even took an afternoon off to visit the Florissant Fossil Beds, with its amazing petrified redwood stumps up to 14 feet wide and the display of some of the thousands of insect and plant fossils. We also walked around the adjacent Hornbeck Homestead site, listed on the National Register of Historic Places. Since it was late in the season, no tours were available of the homestead. After a leisurely breakfast the last morning, we broke camp and left for home. We will definitely return as there are many more other trails to follow. The only negative of the stay was the return home through Colorado Springs with their typical traffic jams, but we expected that! What a difference from the solitude of the forest!