To discover new horse camping and trail riding destinations, I follow a couple of interesting Facebook sites: "The Road Apple Gang" and "Camping with Your Horses/Mules." Once fall set in, posts starting appearing on these sites about the wonderful places to winter in the southwest with your horses.  I started compiling a list of recommended campgrounds that appealed to us, three spots in Texas, four in New Mexico, and about a dozen in Arizona. Next, I started checking out their websites and making phone calls. The first thing I discovered is that most of the equestrian campgrounds are booked a year, sometimes two or more, in advance for the winter, and that some people spend all of the winter month in the warmer climates.  My husband and I did not want to be "Snowbirds with Horses," but we did want to explore places that would not be fun during the hot summer months.
Luckily, I contacted Rio Rancho Verde near Scottsdale, Arizona, shortly after they had received a cancellation, so we were able to book reservations for six nights beginning March 1, which we discovered later was near the end of the season in Arizona. The trip south would take us two days, so we also booked reservations with DS Stables in Grants, New Mexico, for the drive down and back home again.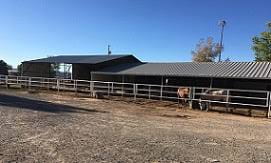 We spent the first night west of Albuquerque. Although the stables were close to Interstate 40, it was a little tricky to find. However, the hosts were friendly, helpful, and the corrals large and clean, enabling the horses to stretch their legs a little after the long haul. Unfortunately, the camp only had electrical hookups because the water hookups were turned off for the winter, and we had not filled the trailer tanks for the trip since we could have fresh water hookups in Scottsdale. However, we had buckets to carry water to the bathroom, and we were not very dirty from riding in the truck all day.
The next day we were back on I-40 toward Flagstaff. The road was in bad shape, and we drove in bumper to bumper semi-truck traffic, all traveling at fast speeds. I was so happy when we turned south at Flagstaff toward Phoenix and Scottsdale. The scenery was beautiful. We drove through a mini-blizzard in the mountains, but it cleared quickly. Although we had instructions on how to drive to Rio Rancho Verde, the exits had different names. We called them, and they were able to talk us through the twists and turns.  When we arrived, they were waiting for us to check our horses' health papers as well as the horses before we were allowed to unload. That was reassuring for us, for we knew that the other horses would have been checked thoroughly also.
Although the Ranch had campers and trailers to rent,  full hookups for LQ horse trailers like ours were availableb for about 6-8 campsites, which made it very quiet and personal. There was not much shade, but at that time of year, it wasn't necessary. The horses did have covered pens with automatic waterers and a thick sand floor. When we first turned our horses loose in their pens, one of the neighboring horses was very aggressive and would not let my husband's horse drink. When we alerted the owners, they very quickly made some changes so Mac had a more agreeable neighbor.
For our first morning ride, we decided to go into the McDowell Sonoran Preserve about a mile west of the ranch. The Preserve is a 30,500 acre protected desert habitat with 71 trailheads for hiking, biking, and horseback riding, and it is America's largest urban park. Not only had we printed trail maps of the Preserve, but we had a map of it downloaded on our mobile phones. The trails were all pristine and clearly marked, the weather was pleasantly warm with a cool breeze, and the scenery was amazing, especially all of the Saguaro cacti. We felt like we were in a western movie, and John Wayne would be rounding the next corner. I must have taken 50 cactus photos! We met a few hikers and mountain bikers, but since horses have the right of way, everyone was courteous. The only problem we had was that Mac did not want to step over the iron bar across the road into the Preserve that keeps motorized vehicles out. It was about as tall as his knees, and it took some serious persuasion to get him across. The first time, he leaped wildly over it. Fortunately, Terry was leading him, not trying to stay on. We rode about 10 miles, enjoying every minute.
The next day we thought that we would try the three-million-acre Tonto National Forest, which borders the ranch to the west. We only rode for about three hours there because the terrain was rough, either too rocky or deep sand. There were no marked trails, and those trails that we found were churned up by SUVs and motorized dirt bikes. We were so glad that we had our GPS. We only met a few four-wheelers, but we were told that it was usually to bumper off-roaders on the weekends. Later that day, we explored the area around the ranch on the horses.
After the Tonto fiasco, we went back to the Sonoran Preserve. We took the Granite Mountain trail and the Coyote Canyon trail–both  very scenic. Foot and bicycle traffic were a little heavier here, but again, everyone was friendly and polite. We rode about 10 miles again and discovered from our last ride that we needed to keep one mobile phone turned off to the save the batteries while we used the other one for navigating, alternating them throughout the day. Our horses were in pretty good shape although we seldom ride 10 miles every day, but they did well here, even in their shaggy, Colorado winter coats, probably because the altitude was about 5,000 feet lower than at home in the Rocky Mountains, !
March 6 was my birthday, so we gave the horses a rest and attended a spring training game between the Colorado Rockies and Arizona Diamondbacks at the Salt River Field in Flagstaff. We are both Rockies fans, me especially, so this was quite a treat. Unfortunately, our two favorite players, Nolan Arenado and Charlie Blackmon, were not playing that day. We sat in the 6th row, and it was awesome. We wanted to go out to eat to celebrate afterward, but Scottsdale is so big, and we had no idea where to go. Suddenly I saw "Maestro Steak House" on a big sign on the highway, so we pulled in and parked. When we walked around the front, we saw valet parking, and a man in a tuxedo; we were wearing jeans and Rockies t-shirts! The young man asked if he could help us, and we explained our predicament. He stated that we were welcome dressed as we were. Since it was early, we were the steak house's first customers for the evening, and when they heard that is was my birthday, we received the royal treatment. We ordered steaks, of course, and they were the biggest and most tender ribeyes that we have ever tasted, and we had lived most of our lives in Nebraska, once called "The Beef State." We ordered homemade onion rings, and enough arrived to feed an extended family at Christmas. Needless to say, we took doggy bags home with us. It was also one of the most expensive meals I have ever eaten in my life, but my husband told me I was worth it–perhaps my best birthday present.
For our last day of riding, we returned to the Sonoran Preserve and added another eleven miles to our tally. That evening, after packing up to travel home, we went for a walk in the moonlight. In the morning, the hostess brought us our bill: $420 for us and two horses for six nights! We told her that we would like to make a reservation for next year for a longer stay, but she said that she was already booked full through the season. Actually, she said, she had regulars who were already booking years in advance. We could understand why!
One of the other campers suggested that we drive northeast through the Tonto National Forest  to avoid the I-40 truck traffic, but the route was sort of complicated, and we would have to ascend some passes. We decided to take Interstates home rather than through mountains since it would be quicker with less traffic on Sunday. Luckily, we made good time back to Grants, NM, where we enjoyed watching the owners of the stables practice roping calves. The trip home was uneventful, and although we had an enjoyable time, we were all, horses, included, glad to sleep in our own beds again. Our dog, Bear, and our cat, Sophie, who had to stay home under the watchful eyes of our neighbors, were the happiest of all.